Does Black Magic Really Work? (Things You Need To Know)
Is black magic real? Does black magic really work?
Probably yes…or no.
The practice of this dark art is always surrounded by skepticism. It's understandable because we tend to things we don't know or different to our viewpoints. Don't let all the myths or what you usually see in horror films fool you.
So, what is black magic exactly?
In this article, we're going to discuss what black magic can do to us and the effect when we cast it on others. Believe it or not, I've witnessed some events related to dark magic in my life.
Let's explore the mystical world of black magic and find out if it's real.
What is Black Magic?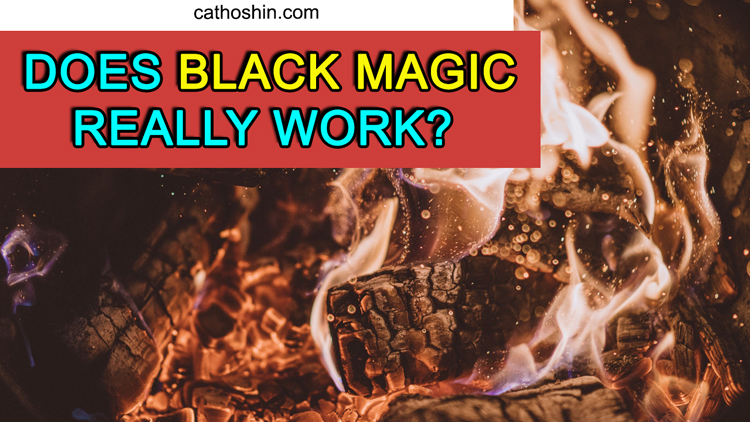 As long as there is light, there must be darkness.
The same goes for magic – the practice of witchcraft is balanced between white magic and black magic. Known as dark magic, black magic usually reflects the dark realm of magic and witchery. Traditionally, people have used black magic to invoke supernatural powers for personal purposes.
One of reasons making black magic receive unfriendly look from many is because most practitioners of this dark art in the past are Satanists, shamans, and voodoo. Performing black magic means you work with Satan and evil spirits.
If you perform a black magic ritual on someone specifically, it will end leaving many effects on that person.
Is Black Magic Real?
Many often ask me the difference between white magic and black magic.
In fact, the answer is not that complicated. When you ask the spellcaster to help you cast a spell for selfish reasons without feeling concerned about how it influences others' life, that's black magic.
Actually black magic spells come with many different levels. If you cast a spell to get your ex lover to come back to you, it's considered as the black magic spell because you're forcing someone to do something against their will. However, that is not worse than a curse or revenge spell to ruin or make an individual suffer.
Some skeptics say that dividing the practice of spell casting into white and black is just a way to hypnotize people's thought and belief. When it comes to witchcraft, there's nothing right or wrong because this realm is not a religion.
Everyone has free will and can make decisions by themselves. In case a person wants to cast a black magic spell, then it's okay if they're responsible for the consequences as well as negative side effects.
Overall, practicing spells with black magic is a more powerful way to fulfill your desire.
Learn spell to keep someone away from you or someone else instead of trying black magic.
How does it work?
Undoubtedly, black magic is real, and the best evidence is that religious institutions have always been fighting against it for centuries. As mentioned earlier, people feel afraid or skeptical towards things they don't know or understand much. Indeed, the practice of black magic requires a lot of research and hard work.
We all can cast spells but none of us is sure they will definitely work.
I do believe in black magic because I've seen some circumstances suffering from black magic spells or curses. In addition, I keep receiving lots of questions asking how to break black magic curses every day. But of course only professional spellcasters can handle that situation.
I must repeat this again: black magic spells are powerful and sometimes can't be broken; if you find yourself deal with symptoms like constant headaches, continuous bad fortunes, nightmares, or any kind of sicknesses, probably someone has cast a revenge spell on you.
Wish the black magic spell to be reversed?
The first and foremost thing to do is to make sure you understand how black magic works. Or simply ask a professional's assistance – experienced witches are able to take advantage of black magic to reverse the curse or hex you are under.
Who can cast black magic?
As I said, anyone can cast spell, but only true spellcasters can cast black magic spells successfully. I always tell you to maintain positive vibes during a magic ritual; nevertheless, you have to work with negative energies in the practice of black magic.
If you want to work with a black magic spell, you must make sure to be careful for your safety. Although you have to draw negativity, never perform a ritual when feeling upset or angry. Your intense emotions will connect your energy to the spell, which means you unintentionally attach yourself to the curse without knowing what you are doing.
Contact a professional spellcaster if you are desperate and really need a revenge spell on your enemy.
With rich experience, they guarantee not to let their personal emotions creep in the session. They will cast the spell in the safest way to prevent negative energies from rebounding upon both your life and theirs.
Protect yourself by getting help from professionals today!
Discover 4 Kinds of Black Magic Spells
To date, still many people use black magic to accomplish their deepest desires. Basically, this is just a more powerful spell casting method to help you certainly fulfill whatever you want.
Obviously, black magic spells have many different kinds:
1. Black magic spells for love
Want to make someone fall in love with you?
Talking about love, you can consider trying out Voodoo or Hoodoo. Some claim that Voodoo doll is only used for revenge, and this is not true. In fact, it can also be availed to attract someone.
For Voodoo practitioners, please keep in mind that most Voodoo love spells require bodily parts (fingernails, hair, etc.) for the power to manifest. Once the DNA of your target is attached to the spell, the connection will be strong and unbreakable. That's why your spellcaster will ask you to prepare a personal item from your love interest before casting a Voodoo spell.
A picture can work well, but a shirt or sock with their scent is even better. This kind of Voodoo spell can also be used to bring back a lover.
2. Black magic spells for revenge
Need to get revenge on a very terrible person?
Probably black magic spells for revenge are the most common. Usually white magic spellcasters don't encourage people to send negative energy into the universe. Thus, only black magic can help you hurt your target if that's your desire.
By casting revenge spells and curses, you can bring bad lucks to someone's life, such as making them lose their job, breaking their relationships, and even causing their death. If you want your enemy to suffer hard, black magic spells can torture them psychologically to the point they will have headache, nightmares and hallucinations.
3. Black magic spells for success
Want to get promotion in your career or profession?
If you wish for great success in your professional life, then powerful black magic spells can surely help you. White magic can also bring you success, but not as much as what you've longed for. You don't have to worry about negative events if you get the job from someone else with black magic.
Of course the spell will leave unexpected consequences that you need to deal with, but everything will be in control with the help of a professional spellcaster. Therefore, you don't have to be afraid – simply ask them to grant you the job you've always dreamt about.
Keep in mind that you have to be specific whenever working with black magic.
4. Spells to reverse black magic
For those who might suffer from any of symptoms mentioned above, you should firstly visit a doctor for the checkup. In case they can explain your health condition, chances you are under the influence of a black magic spell.
What to do in this case?
The one and only way is to ask a professional spellcaster for a private session to reverse the spell connected to you. Only powerful black magic can deal with black magic spells.
Some curses and hexes can follow you over generations, so don't overlook this matter.
The Bottom Line
So, does black magic really work?
The answer is yes!
If you are having any desire or wish that cannot be accomplished with white magic, then try out black magic for success. More powerful and effective, black magic spells not only grant your wishes but also remove dangerous curses cast on you without your awareness.
However, you should be careful when using it because a black magic spell can back fire and leave negative effects on you threefold.
For more questions about this topic, don't hesitate to comment below.
Reader Interactions